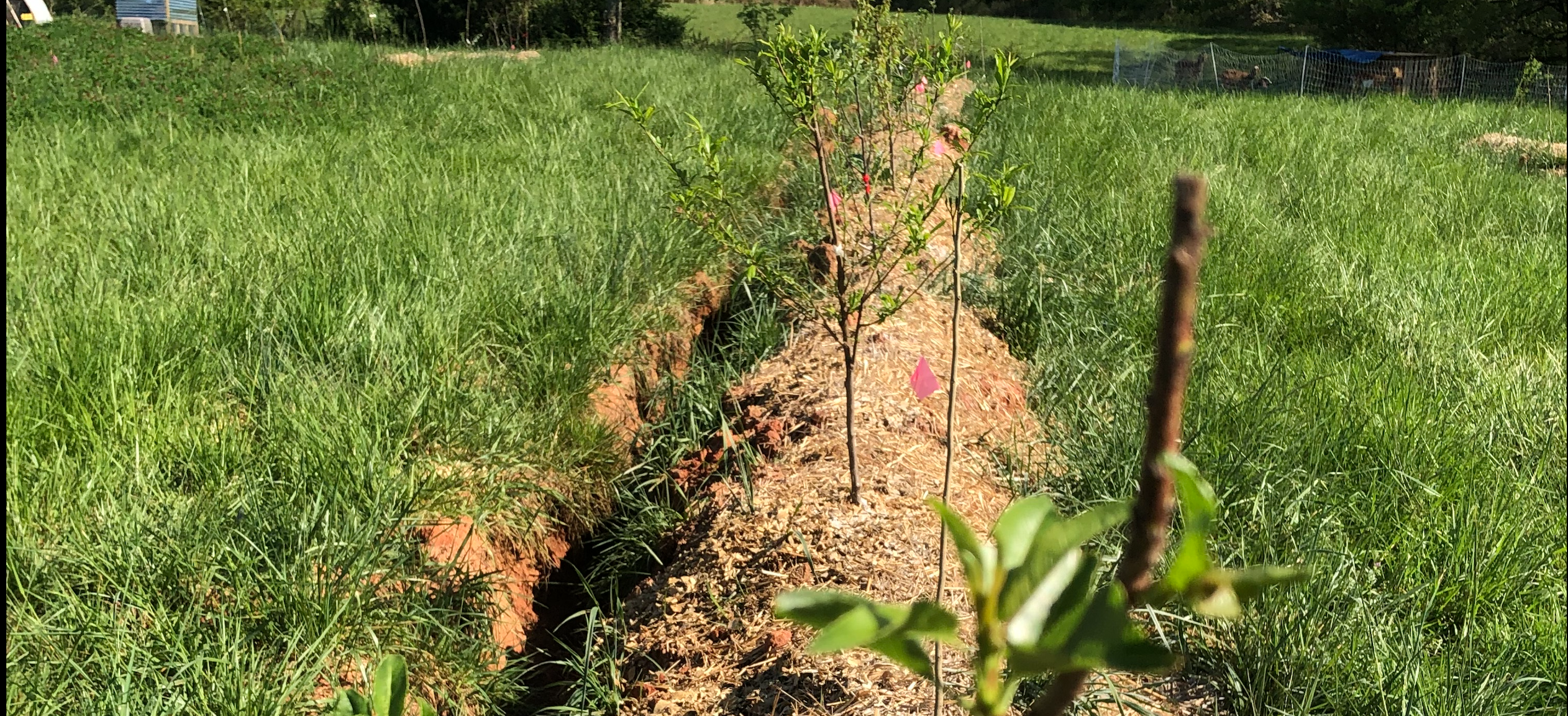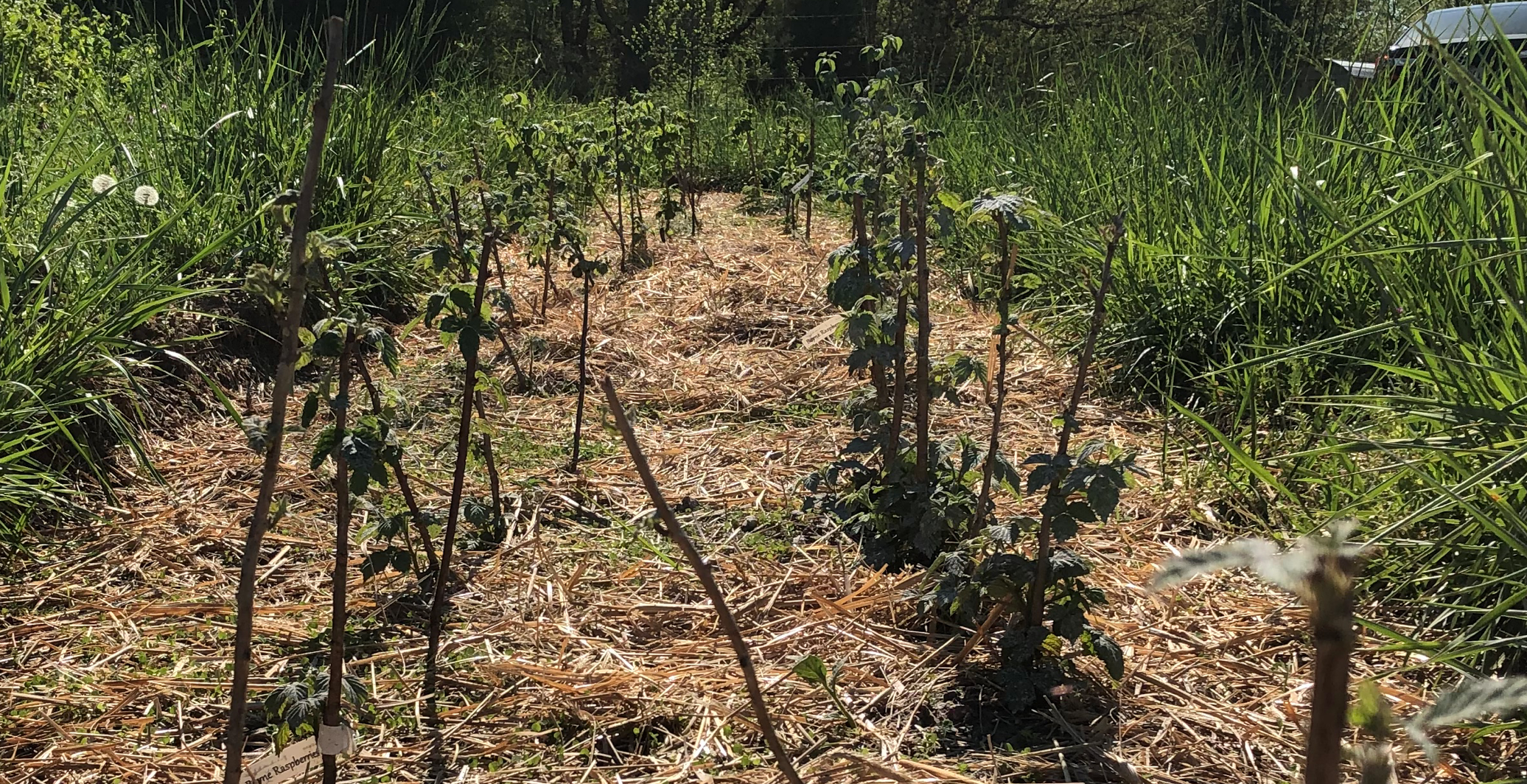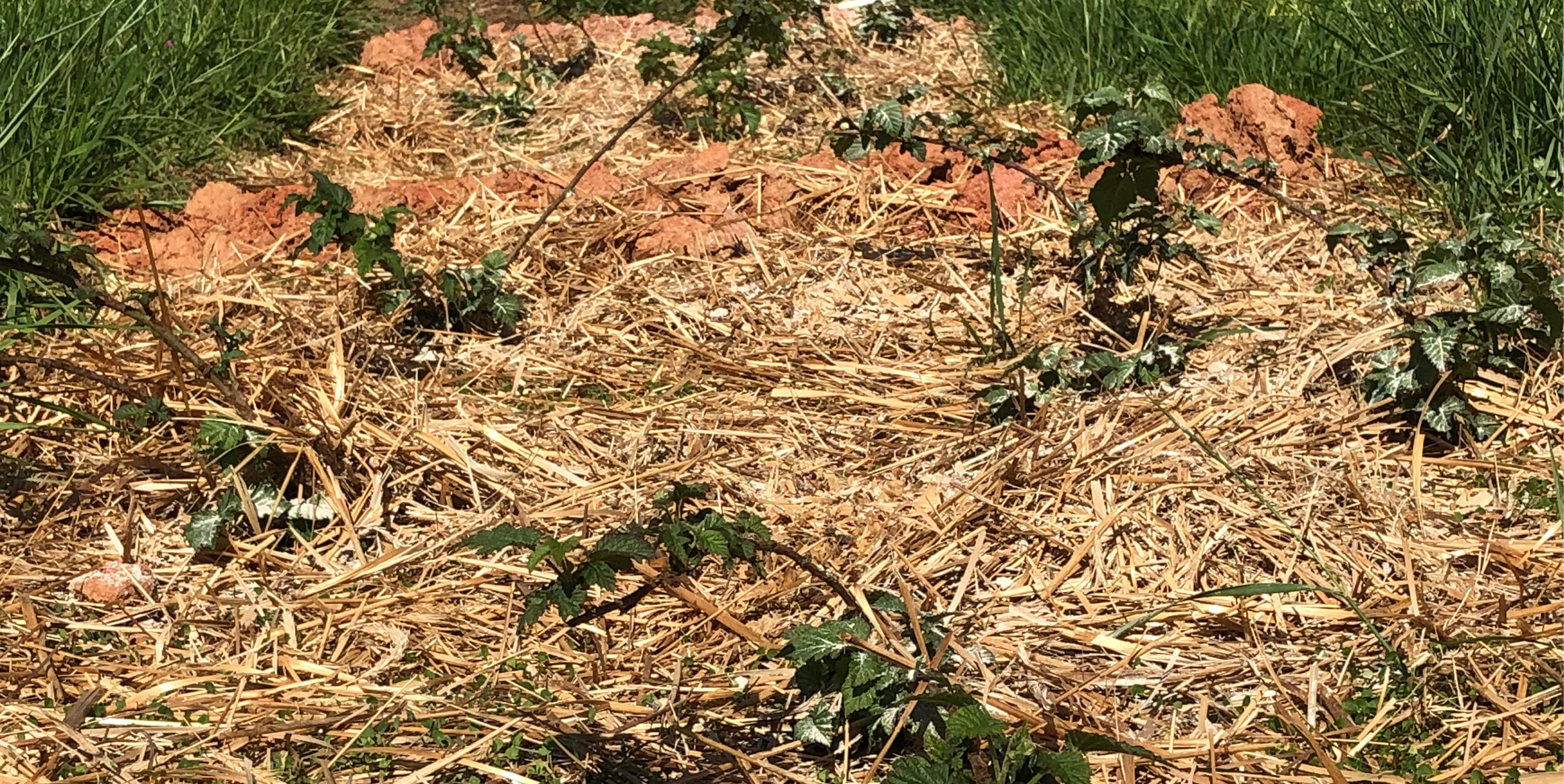 ll the fruits is right. We are embarking on a crazy experiment currently with fruits. Currently there aren't many if any organic orchards in our area due to disease, fungus, pests, all of the above, so the first thing I wanted to do on the farm was, Plant an orchard. Mainly because we love fruits, and because it allows us to challenge what is known. Maybe it fails, maybe it succeeds only one way to find out...
So once we decided to make the investment, we couldn't just order 10 trees and call it quits, no we order 40 Blueberry bushed, 50 Raspberry, and 25 blackberries, 40 mixed fruit trees details below.
A couple things we are experimenting with:
The use of swales, heavy mulch around the trees, and green mulch (clover) in other parts of the beds.

The swale system we are using is primarily to keep water from just running down the property, but also to catch any nutrients, also they will be filled with yard waste to break down slowly to the root system of the tree.

Close planting, so only the strongest plant survives, but also so when young the trees can protect each other. It's similar to a young forest, when you see a new batch of trees, they are all on top of each others, but eventually the strongest survives. We plan to move the smaller trees that survive into new areas each winter until its successful.
The use of Guilds, Every other tree in the main orchard is a buffer tree or a mulch tree, we utilized Redbuds, Honey Locust and Black Locust.

These are fast growers, and are intended to grow up and shade the fruit trees, to protect them from the sun, slow growth and make sure they have strong root systems, and during pruning time they will severely cut back and will be turned into much.
Eventually, the fruit trees will take the predominate sun position and these trees will either continue to be used for much or will be cut down to make room for the fruits.

Interplanting herbs and perennial vegetables, to help protect from pests.
Goats will be rotated to graze on pasture between the rows, and chickens will follow. This is to help break up that mulch so when it rains that nitrogen will wash into the swale system and directly to the main root system of the tree.
We are also using Mulberrys, and Elderberries as wildlife food, to help protect those more desired fruits.
Some we planted into traditional patches as well, like the blueberry, raspberry, elderberry, and fig.
Below are the varieties of trees we chose to try:
Apple:

Kidd's Orange Red, New Zealand 1924

 

Red Winter Pearmain, North Carolina 1850's
Newtown Pippin, New York 1759
Whitney Crab, Illinois 1869
Grimes Golden, West Virginia 1804
Black Twig, Tennessee 1830's
Arkansas Black, Arkansas prior 1886
Deaderick, Tennessee 1850
Nickajack, North Carolina 1853
Victoria Limbertwig, Tennessee prior 1860
Pear

Seckel Pear, East Coast 1790
Warren Pear, Mississippi 1976
Red Bartlett, Washington 1938
Pomegranate

Eversweet Pomegranate
Wonderful Pomegranate
Peach

Redhaven Peach, Michigan 1930's
Peentau Peach, China 1800's
Belle of Georgia Peach, Macon 1870's
Indian Blood Cling Peach, Southern 1800's
La Feliciana Peach
Babcock Peach, California 1923
Cherry

Skeena, British Columbia
Rainier, (VanxBing)
Nectarine

Arctic Queen Nectarine
Goldmine Nectarine
Liz's Late Nectarine
Plum

Mariposa Plum, Pasadena, California 1923
Golden Nectar
French Prune, (D'Agen) 1856
Mulberry

White Mulberry (Morus alba)
Pakistan Mulberry
Apricot

Moorpark Apricot, England 1760
White Ume, Japan
Jujube

Ga-866 Jujube Tree

 

Sugarcane Jujube Tree
Fig

Black Mission Fig, California 1769
Flanders Fig
Texas Everbearing (English Brown Turkey)

 

White Genoa Fig

 
Nuts

Pedro Walnut
Filbert Tree
All-In-One Almond
American Black Walnut
Revival Chestnut

 

Tulare English Walnut
Pee Wee Hican Pecan
Desirable Pecan Tree
Berries

Fall Gold Raspberries
Latham Red Raspberries
Boyne Raspberries
Boysenberry, Rubus ursinus 1923
Tayberry
Primus White Currant
Oregon Champion Gooseberry
Goji Berry, Lycium barbarum
Blueberries

BigAss Blueberry
Ochlockonee Blueberry
Powderblue Blueberry
Vernon Blueberry
Nitrogen Fixers

Autumn Olive Tree
Black Locust Tree
Eastern Redbud Tree
Mimosa Tree
Thornless Honey Locust Tree